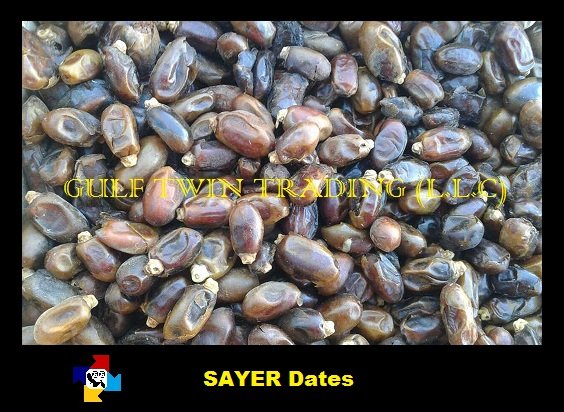 SAYER DATES:
---
Sayer Date which makes up about 65% of Iranian date is one of the exports Iranian dates that is allocated around 40% of total export of date palm to itself.Sayer(Stamaran) Date and Zahedi dates are the main kinds of date fruit in Khuzestan province which mostly are utilized in export and international markets and rest of the date fruits such as Kabkab, Khazravi, Gantar, and Hallavi only are used in internal and local markets.
The date due to its high quality and having good attributes is known in many countries especially European countries such as Canada, England, Australia, and New Zealand.
The date has a high amount of nutrients and cellulose. Sayer Date is a semi-dried date at harvest and its moisture is less than 17% and so because of this, keeping the date more than one year in a tropical warehouse and without freezing is possible! This kind of date fruit according to being semi-dry can be dissolved in water quickly.!
---
ZAHEDI DATES:
---
The most exquisite species of dates are produced in Iran. The fruit has a large variety and more than 400 varieties of the fruit, some of which acclaimed worldwide, are produced in the southern, southwestern, and southeastern palm groves of Iran.
Zahedi (Zahidi) Date can be considered as the most frequently used kind of Date fruit in Iran. This Date can be grown in most tropical cities of Iran but the most kind of Iranian Zahedi Date fruit is cultivated in Fars and Kerman provinces.
Iranian Zahedi Date is dry fruit with a yellow color to light brown, round in size, meaty and so delicious with high durability which its moisture is less than other kinds of Date fruits.
---
KABKAB DATES:
---
One of plenitude and important dates in the south of Iran. This type o date is bigger than others. They have opal dark red to blackish brown color and very small core. High-grade of Kabkab growing up in the south of Iran. Core oval, elongated, gray, skin stack to the fleshy part. Harvest: Mid of September First ready to loading cargo: First week of October Taste: Sweet Physical properties: • Color: Dark Brown (Reddish) • Length: 4.5 -5.5 cm • Diagonal: 2.5 -3 cm • Weight: 9 -11 gr • Soft Grading: • Grade A • Grade B Consumer Items: Costumer Packing, Snack, Medicine, Syrup. Importer countries: All over the world especially East Europe, Russia, Asia. The area under cultivation: South of Iran The quantity of per container 20 FCL: 19 MT, 40 FCL 28 MT. Type of Packing: 10 kg Cartons, 5 kg, Small Pack (Under 1 kg). Shelf Life: 1 year Storage Condition: Room Temperature, Need Fumigation every two months. Grading: • Grade A • Grade B.
---
MAZAFATI DATES:
---
Mazafati or Mozafati  (also called the Bam date,) is a cultivar of the date. It is grown in southern Iran, mainly in Bam, Jiroft, Kahnoj (in Kerman Province), Saravan, Nikshahr, Haji Abad and Iranshahr (in Sistan-o-Balochistan Province) It is a dark, soft, fleshy and sweet date of medium size (2.5 to 4.5 cm), with a relatively high moisture content of between 32-35%; it varies depending on the time of harvest and the location of the grove. The date is suited for fresh consumption, i.e. not dried At a temperature of −5 degrees Celsius (23 °F) it can be kept for up to 2 years or 12 months at 0-5 °C. Mazafati Date harvesting time depends on the variety and starts in August, lasting to the end of October.
This variety is the most common variety of fresh dates for snacking and table eating.
---
PIYAROM DATES:
Piyarom dates are one of the most delicious kinds of dates fruits which are not too sweet, not too hard, not too soft, not too juicy and wrapped with a very thin and light skin which makes a great feel and taste when eaten.
There exists a mountainous area in the south of Iran in the farthest northbound of HORMOZGAN province right at the end of the ZAGROS ranges where one of the most delicious semi-dry dates of the world is grown. This date is called PIYAROM in the local dialect. PIYAROM palms are mainly grown in the mountain slopes and are irrigated by the regional rivers through the gutters constructed at different levels. These palms are mostly fertilized by organic manure and no chemical is used in their crop storage stage.
The thin skin of this date is dark brown. Since the seed and flesh are tightly attached, it has an attractive appearance which can be rinsed completely.
---
RABI DATES:
---
Rabbi Date is a semi-dried date fruit which can be kept in a normal temperature of room !the date is available in relative sizes, attractive black color, and soft texture. There is another kind of Rabbi Date Which is smaller, drier and is so hard! Rabbi Date fruit is one of the most important productions of Sistan and Baluchistan province. After Stamaran, Shahani, Mazafati, and Kabkab, Rabbi Dates fruit has the most economic value in Iran! Iranshahr and Zabol have high-quality Rabbi date and in the Chahbahar and Saravan its quality is good!
Rabbi Date due to the natural nutritious substances has high nutritious value. The vital substances of this fruit are Lactose and Fructose which are a rich source of natural sugar and is not harmful to those who are suffered from high blood sugar. Iranian Rabbi Dates fruit is an appetizer which prevents from cancer of the digestive system, improves gastrointestinal function, helps to relieve nervous tensions and treatments of diseases such as Anemia and high-fat level.
---
KHASSOEI DATES:
---
Khasoei dates are one of the varieties of dates in the Bushehr province. These dates can be found only in the foothills of Zagros in the historic city of Jam, which are located in the center of the cities of Assaluyeh, Kangan, Farashband, Firoozabad and Qayro Karzai.
This city has long been recognized as one of the main poles of date production in Bushehr province, and dates are the best and most distinguished dates of the region.
The dates are light brown in color so that its size is smaller than the varieties of dates in this province. These dates are sourer and full of juice, so if you keep these dates in a container for three to four hours, they are immersed in their juice and are also always exported to neighboring countries of the Persian Gulf.
In addition to exporting this fruit abroad, it has a very good market inside Iran, so these dates are known as the second highest quality date in Isfahan province.
---